this is a web site about travelling through Australia in a very small home on wheels
First there was the choice of motor. I considered a small van or truck (Sprinter, Transit, Ducato). None of these were readily available in 4×4. I finally decided on a 4×4 Isuzu DMax tray back ute.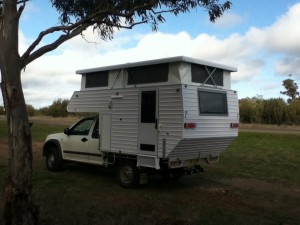 Next was find a room to carry on the tray, in which to cook, eat, sleep etc. There are many manufacturers of slide on or glide on campers. Most talk about customising to customer ideas, provided that the customising does not stray too far from their basic design. I do not consider chosing colour schemes or chosing between a few standard designs is customising. I wanted a living space that suited me. It took a while to narrow the selection.
the final design took some work as I want to design something that worked for me when I had not had a lot of experience in using the product. I managed to find a manufacturer who was prepared to listen and spend a little time to help me nut out what I wanted.
Next will be the manufacture. Then the trip.